A police officer who shot and killed a man in his flat in Texas after apparently thinking she was in her own apartment has been arrested.
Officer Amber Guyger, 30, has been charged with manslaughter.
The family of 26-year-old Botham Shem Jean had demanded that the officer be taken into custody.
The victim was a devout Christian who graduated from a university in Arkansas and was working for multinational PricewaterhouseCoopers.
Officer Guyger has been in the police department for four years and is assigned to the Southeast Patrol Division.
She was booked at the Kaufman County Jail and the investigation is ongoing, the Texas Department of Public Safety said.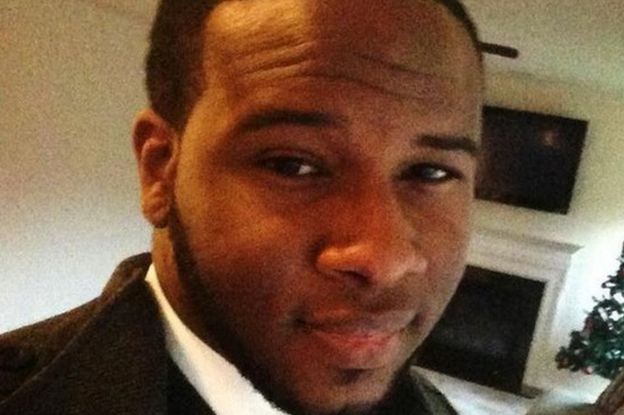 She posted $300,000 (£232,000) bail, ABC reported, and has been released.
The arrest warrant was issued after an independent investigation by the Texas Rangers and the Dallas County District Attorney's Office.
The victim's family have hired lawyer Benjamin Crump, who represented Trayvon Martin and Michael Brown, unarmed black teenagers who were shot dead by a neighbourhood watch volunteer and a police officer respectively.
The Dallas shooting occurred at an upscale apartment complex just one block from the police department, south of downtown.
According to a police statement, the officer, still in uniform after her shift, walked into the unit she believed belonged to her and saw Botham Shem Jean inside.
What happened next is unclear, but the officer eventually fired her gun.
The officer then called for assistance and the victim was taken to hospital where he later died.
Officer Guyger was tested for drugs and alcohol at the scene.
Botham Shem Jean, who grew up on the Caribbean island of Saint Lucia, was a respected member of a local church.
Dallas Mayor Mike Rawlings said: "Botham Jean was exactly the sort of citizen we want to have in the city of Dallas. And for that reason this is a terrible thing that has happened. Not only has he lost his life, but we've lost a potential leader for this city for decades to come."
PricewaterhouseCoopers said: "This is a terrible tragedy. Botham Jean was a member of the PwC family in our Dallas office and we are simply heartbroken to hear of his death."
bbc.com